Spring has sprung, and while the grass hasn't risen yet, it's the perfect time to start dusting off picture frames and washing grubby fingerprints off the walls. While many of you probably start your spring cleaning in March, I usually wait until April because it usually feels more spring-like.
Spring cleaning can be very overwhelming, so I've put together an easy-to-follow daily calendar for the month of April. Print it off, stick it to the fridge and cross each day off with a giant X as you complete each day and task. Some cleaning tasks are easier than others, just like some days are easier than others, so feel free to swap tasks around. Make sure to follow Macaroni Kid Chestermere on Instagram and Facebook as I'll be posting daily reminders too.
Click here to download your FREE Spring Cleaning Jump Start calendar.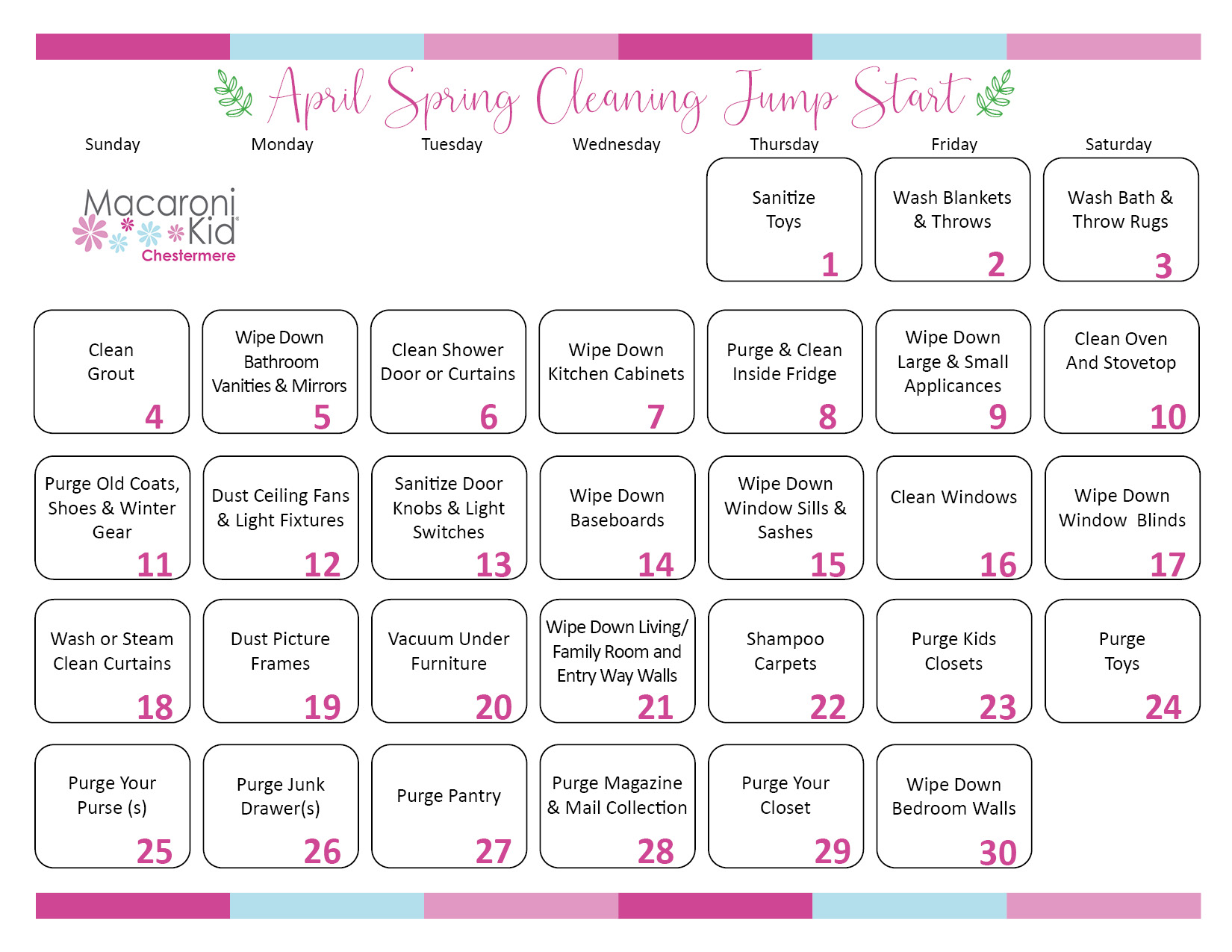 Feeling extra clean? Here are some other tasks that didn't make it onto the calendar:
Put away the last of the Christmas/Valentine's/St. Patrick's Day decor
Defrost the freezer
Purge old/expired personal care products and make-up
Clean the seal on the washing machine
Flip mattresses
Clean air vents and registers
Pull items out of kitchen cabinets, wipe down the inside of each cabinet
Move the fridge and clean behind it
Macaroni Kid Chestermere is a free weekly newsletter and website focused on fun family events and information in the Chestermere, Langdon and surrounding areas. We gather together all kinds of local family events and activities each week and add useful information about classes, family-focused businesses, book and product reviews, recipes, crafts, school and camp guides and more.
Our event calendar is available 24/7, so anytime you think, "What should we do today?", we want it to be your go-to resource. Know of an upcoming event I've missed? Events can be submitted HERE or via email at kimmcrae@macaronikid.com.
Please always remember to tell businesses/event hosts that you heard about their event on Macaroni Kid! Your readership and support help us to bring you this free newsletter and website.
Follow us on social media: Facebook | Twitter | Instagram